Minister of Finance
Hon. Basil Rohana Rajapakse Minister of Finance.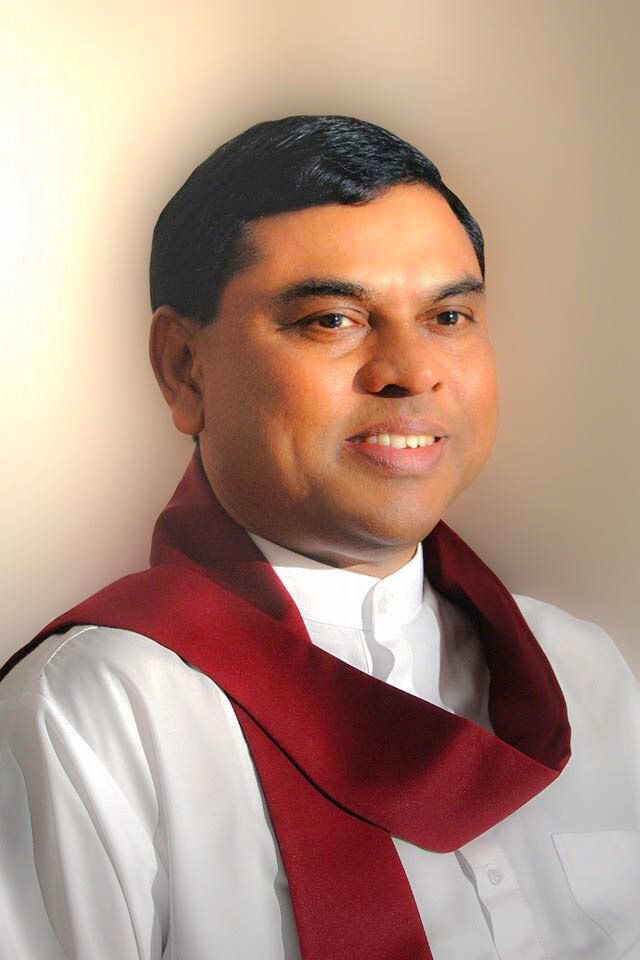 Hon. Basil Rohana Rajapakse, M P
Minister of Finance
Hon. Basil Rohana Rajapakse was appointed as the Minister of Finance by His Excellency the President, on 8th July 2021. He joined the Parliament of Sri Lanka for the first time in 2007 and was re-elected in 2010 representing Gampaha District where he obtained the highest preferential votes ever in the history in Sri Lanka. Hon Rajapakse served as the Minister of Economic Development for period of five years between 2010-2015.
He took many strategic initiatives during this time where he was instrumental in reviewing and establishing several important bilateral agreements that were strategic for Sri Lanka's growth and development. He also worked in corporation with international donor community to include IMF, World Bank, ADB and European Union to ensure Sri Lanka's benefit and support.

As the Minister of Economic Development, he was responsible for revitalizing the tourism sector in Sri Lanka of which the results are being enjoyed with over 2 million tourist arrivals annually prior to easter attack 2019. Further he was also instrumental in enhancing infrastructure development and service economy of the country with a transformational focus for future. This resulted in a rapid economic growth of over 6% annually, ranking Sri Lanka among the fastest growing countries in South Asia.

One of the flagship development projects initiated and implemented by Minister Rajapakse was the 'Divinaguma' program which focused on poverty eradication, community cohesiveness, enhancing family welfare, rural credit and banking, livelihood improvement and rural infrastructure development. This had ripple effect on the rural economy where the benefits were felt in the areas of social, educational and cultural aspects.

Establishing one million Home Economic Units with the focus on enhancing the living standards of the needy households and strengthening their economic wellbeing has been recognized by Development Economics Circles as one the significant contributions by Minister Rajapakse. Such policies and initiatives have been deemed invaluable in the current context that Sri Lanka.

He also headed the Presidential Task Force for the North where within 13 months he was able to resettle 350,000 families in war affected areas with the development work. Minister Rajapakse was able to champion the rebuilding work in the war affected North and Eastern provinces where he implemented two multi-task regional development programs, Uthuru Wasanthaya and Negenahira Navodaya. These two programs were initially introduced as three year accelerated development projects and later incorporated into the Ten-Year Horizon Development Framework 2006-2016 for Sri Lanka, which was presented as the government's main policy plan "Mahinda Chinthanaya" and "Mahinda Chinthana Forward Vision".

Minister Rajapakse also spearheaded number of Presidential Task Forces in the wake of the Covid-19 pandemic and played a critical role as a member of the Committee to Combat COVID-19. He is also the Head of the Presidential Task Force on Economic Revival and Poverty Alleviation. This has been established for reviving the economy and eradicating poverty while paying special attention to the challenges posed and opportunities that emerged in Sri Lanka in the wake of COVID – 19 outbreak.
His political journey started in early 1970s. A mile stone in his political career is the formation of the largest political force in the country, the Sri Lanka Podujana Peramuna, (SLPP) in 2016
which hold the majority in the current parliament and became the main party of the current government.

He is known as a political strategist and a task master. His leadership philosophy is based on trust and commitment. This has won him a strong political network and a team with operational excellence. His planning is strategic in nature, holistic in spirit and futuristic in thinking. He believes that 'Nothing is Impossible' when you are prepared to think differently and fearlessly.

Minister Rajapakse is married to Mrs. Pushpa Rajapakse, Attorney at Law by profession and blessed with two Daughters, Dr. Thejani Rajapakse and Dr. Bimalka Rajapakse, and a son, Asanka Rajapakse who are currently employed and settled in USA. He is nature lover and believes in multiculturalism.